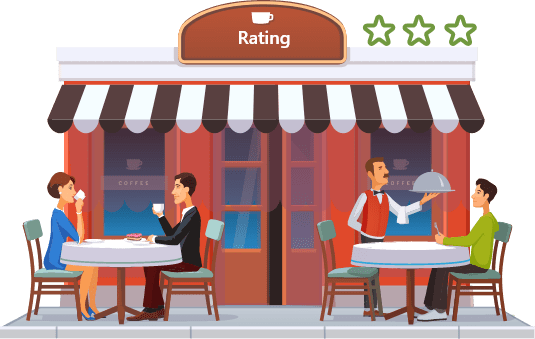 Restaurant & café project
Restaurant & café project The popularity of opening a new restaurant or a Café project has encouraged investors to venture into the food and beverage market drawn by an increasing demand from consumers and rewarding potential profit margins.
The return on investment is quite high, driven by diversified customers of all age groups and tastes.
How do I start a successful Restaurant & café project ?
Do not expect to get the detailed success formula from another competitor in the market, or from someone who pretends to know-it-all who claims experience in all fields related to your new venture.
You may decide to go it alone or hire experienced staff. In such case, you may get little basic information or incomplete or even contradicting ideas that cannot be verified about the matter.
Unfortunately, such approach would never be enough to start a successful project and may lead to false start and loss of precious hard earned capital.
This is due to the very nature of starting a new restaurant or Café which involves many branched out technical details and fields of experience, it also requires accurate execution of the different stages involved.
Therefore, it would not be realistic for any one person or group of people to fully cover all the correct required knowledge, expertise, details by himself/themselves. Establishing a new restaurant or a Café needs a specialized work group with technical skill and practical experience at the same time.
In Deyafa Business, we specialize in establishing all types of restaurants and Cafes, in addition to providing various Projects Services. We work together step by step to establish and execute your new project professionally.
10 reasons to choose Deyafa Business for Restaurant & café project
We listen carefully, and provide all our clients a free preliminary consultation.
We wholeheartedly guard your investment, and save you useless efforts and trials, avoiding unsafe risks and costly errors.
We have a solid track record and a long experience in local and international restaurants and Cafes projects in Egypt, Saudi Arabia, United Arab Emirates and Morocco.
We study the project details thoroughly, and we recommend making a feasibility study of any new venture. We have samples for successful feasibility studies with proven results. We can evaluate the new project or shop location and provide a report about how good the site is with technical recommendations of the suitability, and provide important terms for the conditions of leasing and renting contract for the property.
We specialize in designing and executing all types of restaurants and cafes, and we can customize any ideas that you may wish to add or change.
We have unique capabilities to provide innovative concepts for all types of restaurants and Cafes in all classes and categories.
We can reduce the project costs in practical ways.
We work scientifically and professionally and keep improving our expertise and standards as we always rely on modern technology in our work.
We have qualified work teams in all specializations and we provide accurate reliable advice with solid results.
We provide comprehensive services for all types of new restaurants and Cafes, staring from the basic idea until the inauguration and execution on the ground and operation phases. In addition to other services like management and operation, Staffing, Training, etc.
Start Your Project