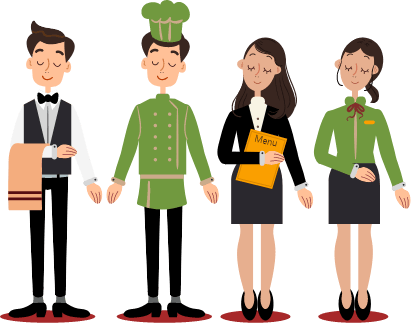 Hospitality Jobs and Staff
Hospitality Jobs and Staff
Hospitality staff is considered the backbone of any project in the fields of hotels, restaurants or cafes, or any outlet serving food and beverage to customers. There is a growing need for professional well experienced staff to provide excellent service at all times. The value of specialized experienced managers cannot be stressed enough, especially in the case of newly established businesses to beat the competition in the market.
The task of head hunting for excellent staff is difficult and time consuming for the new entrepreneur and this is where we can be of assistance. We are pioneers in providing a data bank with all the hospitality job requirements in all specialties for your project.
The process of joining the job search listings is quite easy for either job seekers or employers. For companies, you can have some access to our data bank, or by paying an agreed subscription as per the type of contract you choose.
As we specialize in hospitality service, we categorized the job specifications for restaurants, cafes or hotels, and provided sub sections for each department. The company may advertise their vacancies in our website, contact applied candidates or access the resumes of job seekers from our data bank and contact the candidates directly.
We update our resources of hospitality staff constantly, and contact companies regularly to publish their newest vacancies, so the interested staff can get in touch with the employers and apply directly for the advertised job.
When you register to use this service, you should bear in mind that all information in the site is the sole responsibility of its owner. We are not a job provider, and the accuracy and correctness of ethical conduct should be observed by both employers and job seekers. As per terms of use, any agreement or transaction is the responsibility of the contractual parties, and we bear no liability therefore whatsoever.
Human Resources
Human resources include many services that can help in saving time and effort when looking for the right staff to fill an immediate vacancy. We can help you select the managerial and professional team you are looking for to fill the positions in your project according to your requirements. We have great experience in interviewing and pointing out the suitable experienced professional from our extensive data bank listings. Additional services relevant to human resources are:-
Establishing human resources policies and procedures guideline for your project.
Putting job hierarchy (Jobs chart) of your operation with accurate required numbers of staff and their job specifications.
Suggesting staff wages, salaries and incentives.
Allocating a job specification card for each post (Job description).
Providing rehabilitation and performance upgrade programs for staff.
Conducting comparative market study of job salaries with similar businesses.
Providing company structuring principals.
Hospitality Jobs and Staff
Start Your Project